Tandem flying - two in the air !
ExperienceTandem Hang Gliding
It seems like people get forgetful about hang gliders. By choice now you can realize a flight with a tandem paraglider, two seat powered para-trike or two seat powered hang glider., but one of the most exciting experiences, comparable only with a free bird flight is the hang glider .Keeping the 40 year old tradition of the hang gliding, we offer just that!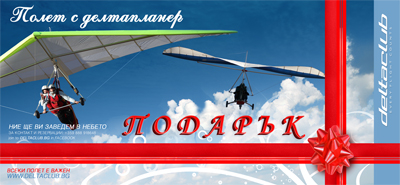 You don't need any special preparation to get air-borne with a hang glider. Anybody who wants can fly, without limitations. This is made possible with the simple combination of a two-place Hang glider ((tandem glider)) , one experienced instructor and your own will to fly. Aside from having a soaring flight as a bird, you will also receive a short professional quality video clip with you as the main character of the movie!
To schedule a free flight with a tandem hang glider and additional information, write us:.
Srebrena Delcheva( the protagonist of the movie )
Signed up and already have flown tandem with Mitko


Last Saturday we went to Petrohan ( the place is called Dupkite -The Holes ) I had no clue what will follow...the place is terrific for flying-beautiful and good for flights in any wind direction ( as I understood ) Add the nice company and you get an almost idyllic picture. For a starter we had to carry the gliders and harnesses uphill-this way we can develop incredible nice muscles...After that..I am not sure how can I describe the experience- Harmony and adrenaline ..A combination that I had always thought is impossible! You see with birds eyes, and you breath as a bird...INCREDIBLE! I have tried tandem flight with a paraglider too...I don't like to make comparisons, but can't avoid it in this case- FOR ME ( underscore, this is my opinion) there is no place for comparison. I will quote a good friend of mine (Stani, as we know him in the forum)..." eyes and wings".... This is the best description for my experience this Saturday! I can only say- This turned my life upside down in a good sense at a very difficult moment for me. In conclusion just this: I want more,… and more,…and more! Thank you, MItko! All these incredible emotions are thanks to you ! PS Special apologies for the too many period and exclamation signs, a couldn't write this without them!...and more! ..and more !..."