Come and fly with us! Enjoy the freedom of the sky!

A tandem flight is fun, safe and easy! You don't need any additional equpment or training!
Just come with us and you could be flying like a bird within a minute!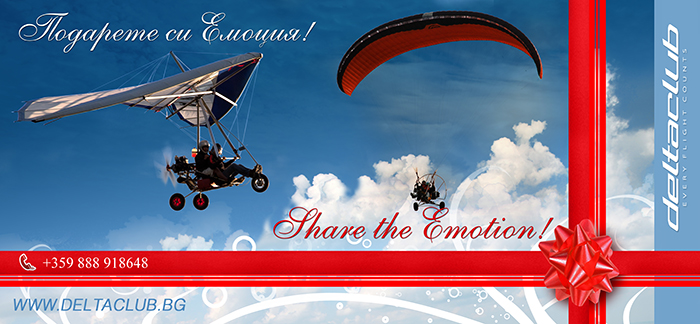 Book your tandem flight with a powered trike hang glider or a paratrike. You will fly high in the sky like a bird only in a few minutes, enjoy the views and live this unique emotion. We can film the flight for you as well.


What should I know?


- To make your tandem flight all you need to do is to contact us by a phone call, e-mail or our online reservation form. All the rest is our reponsibility!

- Everyone can fly - no age or phisical restrictions. All you need to do is come to the airfield and let our team do its best.Even if the passanger is in a wheelchair this flight is suitable for disabeled people because no phisical efforts are needed.

- Clothing - No special equipment needed. Comfortable and warm clotes and shoes are the only stuff you should bring with you. We provide all the equipment - helmets, headset for comunication etc.

- Can I take pictures from above? - Of course you can! These unforgetable views should be captured not only in your memory. The only requirement is the camera to be secured so it can not fall during the flight.

- Smile :) - Compulsory! The most important is to enjoy the moment and have fun! Leave all the rest to us!
Tandem flights - types and prices

Tandem flight with hangglider powertrike
Price: 100 leva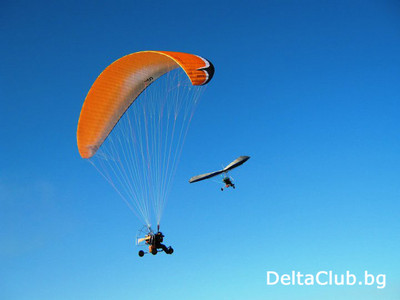 The tandem flights with a hang glider powertrike are the perfect experience for those who want to take a walk in the sky and to see the world form high abobe, to feel the freedom of being in the air. The feeling is similar to the flight with an ultralight airplane. On the picture you can see a powered hang glider and a powered paratrike. The main difference between them is the speed. The hang glider is faster and this makes it able to fly in more dynamic weather conditions.
Groups of more than 6 people take 20% discount.

Hang glider powered trike flight video :


Paratrike tandem flight

Price: 100leva

The paratrike is a paraglider with a trike and an engine. This is probably the best way for a slow and easy ride in the air. The paraglider flys slower and this makes it perfect for smooth weater conditions. That's why we make the flights early in the morning untill 11 o'clock or in the evening before the sunset. Isn't that perfect for a romantic surprise? :)

Contact us: - 0888918648

If you have any additional queations - send us an e-mail.

You should know that we can organize flights every day, but the flights is directly dependent on the weather conditions and your spear time.
Srebrena Delcheva( the protagonist of the movie )
Signed up and already have flown tandem with Mitko


Last Saturday we went to Petrohan ( the place is called Dupkite -The Holes ) I had no clue what will follow...the place is terrific for flying-beautiful and good for flights in any wind direction ( as I understood ) Add the nice company and you get an almost idyllic picture. For a starter we had to carry the gliders and harnesses uphill-this way we can develop incredible nice muscles...After that..I am not sure how can I describe the experience- Harmony and adrenaline ..A combination that I had always thought is impossible! You see with birds eyes, and you breath as a bird...INCREDIBLE! I have tried tandem flight with a paraglider too...I don't like to make comparisons, but can't avoid it in this case- FOR ME ( underscore, this is my opinion) there is no place for comparison. I will quote a good friend of mine (Stani, as we know him in the forum)..." eyes and wings".... This is the best description for my experience this Saturday! I can only say- This turned my life upside down in a good sense at a very difficult moment for me. In conclusion just this: I want more,… and more,…and more! Thank you, MItko! All these incredible emotions are thanks to you ! PS Special apologies for the too many period and exclamation signs, a couldn't write this without them!...and more! ..and more !..."